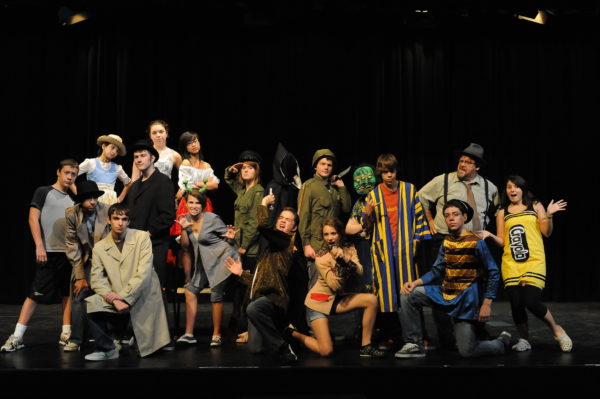 Sing, dance and act in a toe-tapping  musical
Ottawa Little Theatre's Musical Theatre Workshop offers youth the opportunity to experience and explore theatre in one of Ottawa's best-equipped theatre spaces. Learn the techniques of musical theatre as you combine singing, dancing, and acting to create a magical performance on the main stage of OLT! Each Workshop provides professional instruction and gives participants the chance to perform a staged musical theatre performance on the historic Ottawa Little Theatre stage for family and friends.
---
Instructors: Kenny Hayes & Shaun Toohey
Assistant Instructor: MackenzieBreeze Bone
The Musical Theatre Workshop runs for two weeks, July 17-28,  from 9 a.m. to 4 p.m. Monday to Friday.
There is an afternoon performance on the second Friday, July 28  from 4-6 p.m.
Before and after care is available from 7:45-9 a.m. and from 4-5:15 p.m. for an additional fee.
To register click here or call 613-233-8948.
Registration Fee: $500
Before Care $30:  7:45am – 9:00am
After Care $30: 4:00pm – 5:15pm
Before and After Care $50
**Bursaries are available for low-income families. For more information please click here or contact jennifer@ottawalittletheatre.com 
---
After registering, you will receive a confirmation email showing the dates of your child's camp. Closer to the start date of the camp, you will receive an email from the Camp Coordinator with a Health & Safety form to be completed and returned.
Students get a one-hour break at lunch as well as 15 minute morning and afternoon breaks.
The Ottawa Little Theatre reserves the right to cancel a session if not enough students are registered. If a cancellation occurs, parents will be notified as soon possible and a full refund will be made. Otherwise refunds are issued only when notification is received at least 2 weeks before a class is scheduled to begin.
---
Meet the Instructors;
Kenny Hayes
In the ever-vibrant music and theatre communities of Ottawa, Kenny has acted in and composed music
(*) for: Kanata Theatre's 'A Flea in Her Ear,' (CCC Award nomination for Best Actor), Ottawa Little Theatre's productions of 'Skin Flick' (OLT President's Medal), A Christmas Story, and OLT's entry to the Eastern Ontario Drama League One Act Play festival, 'Henry' (Nepean Little Theatre Award – Best Actor in a Leading Role.) Most recently, he wrote the original music for OLT's 'Marion Bridge,' where he was awarded the EODL's Armagh Sifton Price Award for Best Original Song & Score. He is a private music instructor while currently working with OLT as Drama Camp councillor, and will again be at the helm for sound design for OLT's 105th season opener, 'Educating Rita' in the fall (September 20-October 7.)
Shaun Toohey is a acting and teaching professional with more then 25 years experience in Musical Theatre and teaching. He has created, taught and facilitated  workshops and camps with various theatre companies including The Acting Company, Ottawa Children's Theatre, The Ottawa School of Speech and Drama, The Ottawa Catholic School Board and Orpheus Musical Theatre.
In addition to being an award winning actor and director he is also a drama teacher with the Western Quebec School Board.
Meet the Assistant Instructor;
MackenzieBreeze Bone
MackenzieBreeze Bone has been involved in theatre since she was seven years old, but she's been performing since she can remember. She graduated from the Arts Canterbury Vocal Music program in 2016, and has just come back from her first year of studying musical theatre at The Canadian College of Performing Arts in Victoria, BC. She is very excited for this opportunity to share such a beautiful art form with the next generation of performers.