When:
April 22, 2017 @ 2:00 pm – 9:30 pm
2017-04-22T14:00:00-04:00
2017-04-22T21:30:00-04:00
Where:
Janigan Studio
400 King Edward Ave
Ottawa, ON K1N 7M7
Canada

This year's Playwrights Weekend will feature Public Readings  of the winning entries to the 76th National Play One-Act Playwriting Competition on Saturday April 22, 2017 and a Playwrights Workshop on Sunday April 23, 2017.
SATURDAY, APRIL 22, 2017 AT 2:00 p.m. – 3:30 p.m.

Reading of third prize, The Gladys Cameron Watt Award, is sponsored by the Ottawa Chapter of the Canadian Federation of University Women. The 2017 winner is: Tibb's Eve by Step Taylor (Chapel Arm, Newfoundland)
Directed by:  Bob Hicks
Reading for
Molly: Shainaz Moosa
Jess: Joey McDougall
Trevor: tbd
Ronnie: Steve Love
Comments from the adjudicators for Tibb's Eve include:
"The near-music of the language and dialogue prepare our senses for the careening arcs of the characters as they run at first from, then directly into an obliterating Bacchanalian storm. Tibb's Eve is a giddy, powerful play about responsibility and its escape routes, set against a starry Newfoundland night where what it means to be home (at least for Trevor, Ronnie, Molly and Jess) is up for debate" – Nick Carpenter
"Fabulous dialogue is the star of this snapshot of a community that collides with its past, present and future during a wild party which no one leaves quite the same as they arrived"– Brian Quirt
"Tibb's Eve is a fantastic wild party, full of wild longings and dormant resentments that finally have a chance to come out to play" – Bobby Theodore
---
SATURDAY, APRIL 22, 2017 AT 7:00 p.m. – 10:00 p.m.

Reading of the second prize, Dorothy White Award winner: Fags in Space by Liam Salmon (Edmonton, Alberta)
Directed by: Alain Chauvin
Reading for
Eli: Cullen McGrail
Ryan: Luke Brown
Moana: Katie MacNeill
Comments from the adjudicators for Fags in Space include:
"Decorating a Christmas tree generates a wild, vibrant, searching and scarring examination of a gay couple's relationship with one another and with the wider world" – Brian Quirt
"Fag's in Space is a vitally current, viciously tender piece. It explores our desire to go deeper and get closer while exposing our fear of intimacy" – Bobby Theodore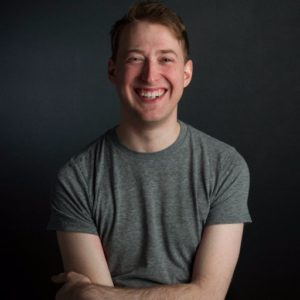 Reading of the first prize, Ottawa Little Theatre Award winner: In Case of Fire by James Odin Wade (Calgary, Alberta)
Directed by: Verreault Milner
Reading for
Jordan: Kim Blanche
Matt: Roger Coady
Comments from the adjudicators for In Case of Fire include:
"A play that shakes the foundations of a young marriage and teaches (or reminds) us that love alone cannot save a partnership.  An intelligent, poignant and often funny exploration of the tension between religious identity and personal fulfillment; the reassurance of community versus the exhilarating terror of total independence" – Nick Carpenter.
"An hilarious, entertaining, and moving play that surprises at every turn. The characters' journeys are very rich and entirely satisfying" – Bobby Theodore.
"A sharp two-hander about faith, lack of faith, and the huge twists that life and religion force upon our lives. The play offers two demanding roles and a challenging scenario that actors and directors will love to tackle" – Brian Quirt.
Public Adjudications – comments by adjudicator and Q&A with audience  providing feedback for playwrights after each reading