We invite all kids/yo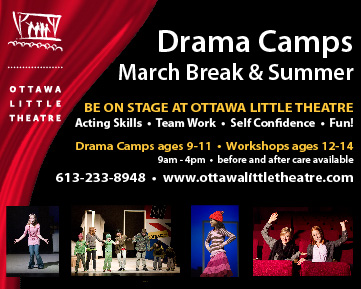 uth to explore their dramatic side at the Ottawa Little Theatre through March Break and Summer Camp!
Make friends
Imagine and create characters
Strengthen self-confidence
Perform on a real stage
Develop listening skills
Work with costumes, props, sound effects, and lights
Camps run from 9 a.m. – 4 p.m. daily.  Before and after care is available from 7:45-9 a.m. and 4-5:15 p.m. for an additional fee.
March Break Camps ~ ages 9-11 & ages 12-14
Summer Drama Camps ~ ages 9-11
Summer Youth Comedy Workshops ~ ages  12-17
Summer Musical Theatre ~ ages 8-16
**Bursaries are available for low-income families. For more information please click here or contact jennifer@ottawalittletheatre.com