Cornerstone Nomination Form 2016
Cornerstone Sculpture and Inductees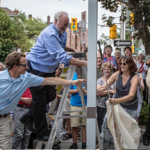 As part of its 100th Season Celebrations in 2012-13, the Ottawa Little Theatre (OLT) commissioned a piece of art, ShapeShifter by Lynda Cronin, which recognizes and acknowledges the contribution made by the many volunteers and supporters who have given their time and energy to making the Ottawa Little Theatre the thriving community organization that it is today – the human cornerstones of the theatre.
Each year, a group of outstanding volunteers will receive special recognition by having their names placed on this sculpture which is located outside at the entranceway to the theatre.  The first ten volunteers were inducted onto the cornerstone sculpture on August 25, 2013, as part of the final event of OLT's 100th Season.
The Cornerstone Selection Committee will select up five inductees in each subsequent year.  Current and past volunteers, members and subscribers are all invited to nominate people who have made an extraordinary contribution to the development of the Ottawa Little Theatre through their work as volunteers. Nominations will be open from January through April each year and forms will be available at this website during those months.
The mandate of Ottawa Little Theatre Cornerstone Selection Committee is to find worthy inductees for the Cornerstone and to acknowledge the significant contribution and exceptional achievement these inductees made to the theatre.
ShapeShifter 
by Lynda Cronin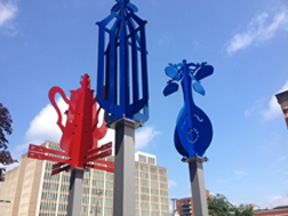 2013
Powder Coated Aluminum
The Cornerstone sculpture plays upon the transformative power of props to create an ever-changing world on the stage. The work celebrates the many volunteers who dedicate their time to bringing imaginary worlds to life. The individuals and the props they engage with are akin to ShapeShifters, as they manoeuvre, grow and change their environment in the creation of live Theatre.  Appearing on the work are the names of volunteers who have made an extraordinary contribution to the development of the Ottawa Little Theatre since it was founded in 1913 – the human cornerstones of its success.
Commissioned with the support of